It doesn't take an economist to realize that used vehicles are a hot commodity these days. Around 677,081 eligible cars were taken off the road in 2009 during the Cash for Clunkers program. That, combined with production reductions due to the tsunami in Japan and the economic slowdown, used cars are in short supply. This scarcity, along with aggressive incentive programs, has caused the price gap between new and used cars has narrowed more than ever. Many private party sellers have responded by selling their used vehicles to budget-minded buyers.


BisManOnline is one of the greatest tools you can use to sell your used vehicle in our region. In fact, many sellers have told us that they've sold vehicles in a matter of several days or even hours! Whether your desired market is the BisMan area, Bakken region or even western Minnesota, BisManOnline can help you out. If your goal is to sell your vehicle as quickly as possible, here are some great tips and suggestions we've gathered from our members.


Use An Attention-Grabbing Ad Title
There are literally thousands of listings in the Automobile category, with hundreds of private party listings in cars, trucks and SUVs respectively. One of the best things you can do is give your ad a chance to stand out. Whether it's a little bit of humor or just a great feature your car has (an accessory, low mileage or just great maintenance), be sure to use this to your advantage. If it's important to you, it's probably important to your potential buyer.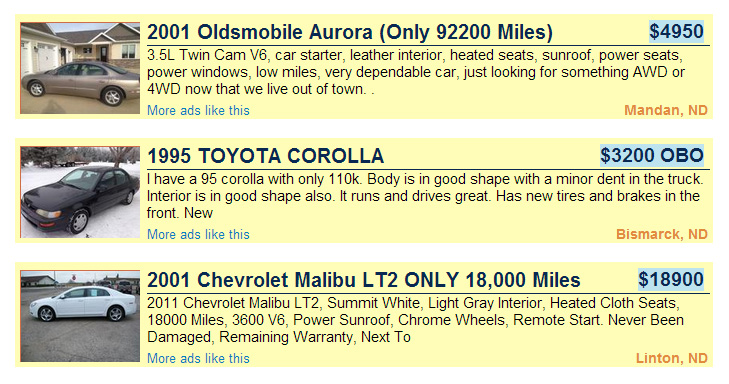 To help you with this, BisManOnline also offers you a variety of ad upgrades that will help your listing catch the buyer's eye. Of course, you want to be sure your ad is being seen by the right audience. Someone looking for a fuel-sipping commuter probably isn't looking for a three quarter ton pick-up truck, so be sure to place your listing in the right category.



Take The Time to Write a Great Description
This goes back to what we mentioned above. If you have a great car, it's easy to think of all the details that will make a great description too. Try to be thorough and specific about maintenance that has been done, if it is in good condition (even things like the tires), what the mileage is, if you have the title, recent maintenance and so on. Remember, this is your chance to "sell" the vehicle to your potential buyer before they even see it, so every detail matters, which includes making it easy to read (i.e. no caps). The time you take now to include useful information will not only cause more people to contact you, but it will save you time later on because questions they might ask have already been answered by your ad. On the flip side, this is probably a good time to fess up about any condition issues the vehicle may have. That includes cosmetic problems, inside and out, but also maintenance it may need right away to be safe or drivable. In the end, excluding important information wastes your time, and the buyer's, when they come to see your vehicle and end up upset or disappointed and leave.


Think About the Price
One thing you can do to guarantee your car will be listed for sale longer than you prefer is to forget to do the homework on your asking price. A good rule of thumb is to look up the private party retail on sites like Kelley Blue Book as a reference. Chances are your potential buyers will be researching the asking price online to see if it's appropriate for the age, condition, mileage, etc. Another good idea is to see what price range similar vehicles are listed for on BisManOnline. It's worth making sure to check how long they've been listed, because that might mean the asking price is more than the market is willing to pay. If the price being asked is above the market threshold, the seller may have tried reducing the price and updating his or her listing to show this. Some buyers have told us they have gotten frustrated with because sellers are accidentally using NADA dealer retail as their asking price. Be sure to check what type of market the price you've looked up is intended for.


Be Thorough
When you have reach Step 3 on BisManOnline's ad posting procedure, try to include all the information you can. Again, this is a great way to save time for you and your potential buyers. Try to be accurate about the current mileage, transmission, drivetrain (FWD, AWD, etc), what accessories your vehicle has and so on. Although a particular feature like a sunroof or manual transmission may not seem worth mentioning to you, it could be a deciding factor for someone looking at your ad.

Use Your Photos Wisely
They say pictures are worth a thousand words. In this case, it may be worth a thousand dollars or more. Thankfully, BisManOnline allows you to upload three photos for free. Be sure to include pictures of the "big three" when it comes to the photos you upload. Try to get a good quality profile picture of your car to use as the main ad image, so people get an idea of its condition and best features. The second picture you will want to include is a picture of the interior.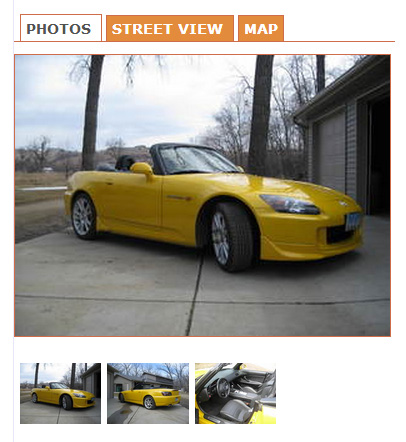 Ideally, you want to take a picture through the driver's door, so people can see the condition of the front seats where they'll be spending most of their time. It also gives you a chance to show off a clean dash or instrument panel. The third picture can be used for whatever else you think will help sell your vehicle. A photo of tires with a lot of tread remaining, a clean engine bay, a beneficial accessory like a winch or brush guard are all examples of a picture that really builds value for your vehicle. Whenever possible, try to use actual pictures of your vehicle, not stock images. A stock image is about as helpful as having no pictures at all.

Be the Salesman You'd Want to Deal With
Have you ever dealt with a car salesman or even a private party seller that doesn't return your calls, texts or e-mails? Maybe you've dealt with someone who wasn't very helpful when you asked questions or was unfriendly in person. Even if you've taken all of the advice before this, there's still one last thing you need to do if you really want to sell your vehicle. It may sound ridiculous, but people aren't just buying your car, they're buying into you, too. People tend not to believe what you tell them about your car's history, maintenance and condition (whether it's true or not) if they don't feel comfortable with you first. Do your best to be friendly, helpful and accommodating throughout the process of selling your vehicle. That includes things like answering questions to the best of your knowledge, responding to messages and missed calls or voicemails in a timely manner, or just being friendly when they come by to see your vehicle. When your car is sold, remember to remove the ad so you don't continue to get calls about it. You can even leave a comment for BisManOnline. In the end, just keep the Golden Rule in mind and your car will be heading down the road with a new buyer behind the wheel.

Even though this article refers to selling your used car, truck or SUV, these pointers also apply to selling just about anything on BisManOnline. The next time you want to sell your vehicle with us, try to keep these suggestions in mind and the experience sure to be pleasant and successful for both parties. If you found this helpful, please like BisManOnline and share this article with a friend or family member on Facebook!